Concert
Lucas Debargue in recital
Philharmonie de Paris
Certain chapters are not available.
Thank you for your understanding.
Program notes
Sit back and marvel at the talent of young French piano virtuoso Lucas Debargue at the Philharmonie de Paris in a carefully chosen solo recital! Debargue's program leads us from Bach to Scriabin, beginning with the perennially delightful, celebrated Italian Concerto by J.S. Bach and ending with Scriabin's moody and magnificent Fantasie in B Minor. On the way, he passes by Schumann's Sonata No. 3 in F Minor (sometimes called a "concerto without orchestra" for its scope and power) and two pieces by Fauré, a composer of whose work Debargue may the be the most thoughtful interpreter of our day.

Although Debargue's playing would be exceptional on any instrument, this recital has the added bonus of bringing you a glimpse of an extraordinary and unusual piano, the Opus 102 by Stephen Paulello. This marvel boasts 102 keys, 14 more than a traditional piano, giving it a truly singular harmonic palette and what Debargue calls an "infinite" dynamic range—in his words, it is a piano that "will never be out of fashion… it will naturally make its way among the legendary instruments and inspire many generations of musicians and music lovers."
Photo: Lucas Debargue © Xiomara Bender
---
Lucas Debargue apperas courtesy of Sony Classical.
Click here to discover Lucas Debargue's album "Zal - The Music of Miłosz Magin".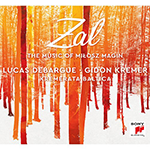 This program is just one of the thousands available on medici.tv, the web's leading classical music streaming platform!
A closer look: composers and works