Concert
Michael Tilson Thomas conducts Julia Wolfe, Prokofiev and Berlioz — With Yuja Wang
New World Symphony
Certain chapters are not available.
Thank you for your understanding.
Program notes
What happens when a world-famous conductor meets a virtuoso pianist? Get a glimpse in this evening with maestro Michael Tilson Thomas, superstar pianist Yuja Wang, and the New World Symphony.
Fountain of Youth opens the exciting program in its New York Premiere, a contemporary work co-commissioned by Carnegie Hall from Pulitzer Prizewinner and MacArthur "Genius Grant" awardee Julia Wolfe. The American composer is celebrated for works tackling difficult issues like exploitative labor practices, but this lighter piece pays tribute to the brilliant young musicians of the New World Symphony, drawing inspiration in particular from Ponce de León's 16th-century quest for the mythical Floridian wellspring. Yuja Wang then takes the stage for Prokofiev's fifth and final piano concerto. Premiered in 1932 with Schönberg and Stravinsky in the audience, the work takes pianistic virtuosity to a new level. The evening culminates in Berlioz's trailblazing Symphonie fantastique. This chef-d'oeuvre subtitled "episode in the life of an artist" draws direct inspiration from the composer's passionate love for the Irish actress Harriet Smithson who encountered one evening in a breathtaking performance at Paris's Odéon. The powerfully expressive piece is divided in 5 parts and follows a young artist who falls in love with the ideal woman, realizes his delirious passions and then plunges into an opium-laced nightmare. Be sure to catch this concert program as virtuosic as it is captivating.
---
Julia Wolfe,
Fountain of Youth
© Red Poppy, Ltd.  
---
Photo: Yuja Wang © Kirk Edwards
Yuja Wang appears courtesy of Deutsche Grammophon.
Click here to discover Yuja Wang's latest album, The Berlin Recital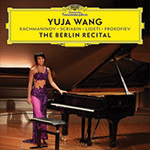 A closer look: composers and works